Headteacher's Message
Welcome to the Davenant Foundation School website. At Davenant, we value the long history of the school which stretches back to the work of our founder, Ralph Davenant, in the East End of London during the 17th Century. This still provides an inspiration for us and sits alongside our absolute commitment to provide the best for our community in the 21st Century.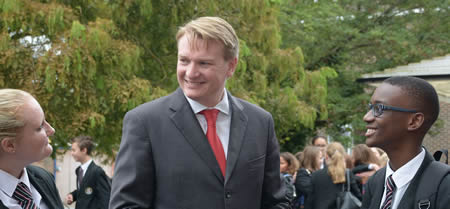 Being a Christian ecumenical school for 11-18 year old students, we have a very special ethos in which to pursue our goal of excellence for every student. Our achievements are recorded both in our examination results and in the recognition we receive for the excellent extracurricular provision.
Our ethos is based firmly on the commitment to "nurture mind, body and spirit" and, therefore, we work hard to ensure each student not only achieves their potential but also has a range of opportunities to be enriched and to enjoy new experiences away from the classroom.
Our Vision & Values, which were articulated by our students state that we should 'Reflect the love of God in all aspects of the community by nurturing mind, body and spirit.' To do this we aim as a community to be Compassionate, Determined, Open-minded, Respectful and Inclusive.
Davenant became an academy on 1st April 2011 and maintains an excellent reputation for its teacher training programmes, staff induction and the emphasis given to staff development at all levels. One of the school's Six Commitments is "to foster the full development of each member of our community".

Whether you are a parent, a student, a prospective employee or curious web browser, we hope you will enjoy using this site. If you would like to find out more, please do not hesitate to contact us.
Adam Thorne
Headteacher