September 2020 Arrangements
SEPTEMBER 2020 ARRANGEMENTS: We are proud of our broad curriculum and extra opportunities that benefit students. With our September Plan we will not need to narrow the curriculum, or the Exam offer to students and all our students will have a full timetable. Please see the details below:
September Information:
 All year groups to return to school in September.
Yr 7 3rd September
Yr 7 & 12 4th September
All Years on 7th September
 The school will be split into Zones. One for each Year Group (year groups will not mix)
 Teachers will go to the students to teach the lessons in their Zone
 Within their Zone students can change classrooms depending on the lesson.
 Subject specific resources (i.e. Text books and equipment) will stay in the relevant Year Group
Zone
 Each year group will be allocated specific toilets
 Each Year Group will have their own Lunch and Break Area
 Tutor groups will be based in their relevant Zone
 Assemblies will only be in year Groups and once a week.
 Extra curricula clubs will be Year group specific
 There is a staggered day to reduce numbers at the start and end of the day:
GROUP 1:
Year 7,8,9 and Year 12
Group 2: Year 10, 11 and Year 13
9.25am -> 3.40pm
Breakdown of the day: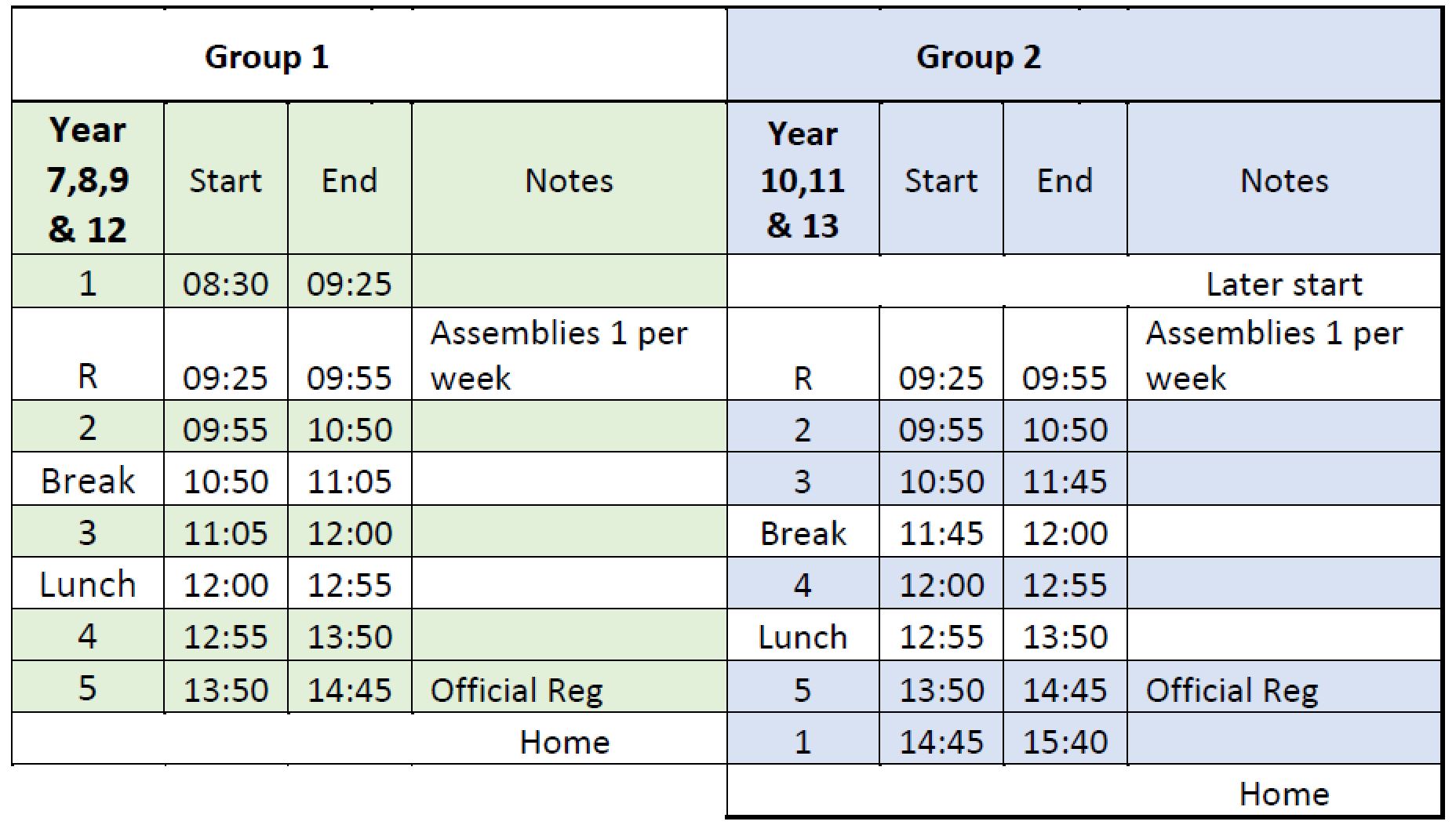  Lunch times and Break times are staggered for the two groups.
 Specialist rooms ( DT Design Music etc…) will be made available for GCSE and A Levels

We are very busy preparing the school for our September Opening and looking forward to seeing our community together again. As parents and carers you will have many questions, please see the FAQ sheet below (also emailed) that we hope will cover the vast majority of them. We are following all government recommendations and will keep you updated, as and if they change. We will also be writing to you nearer the time regarding transport recommendations, PPE requirements, amended Behaviour Policy and the daily protocols we will all be following to ensure our community stays safe and supports each other.