Davenant Celebrates another year of outstanding results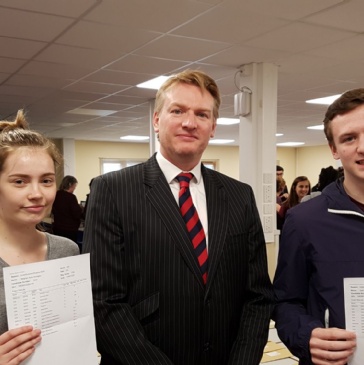 Students at Davenant are celebrating their outstanding A Level and GCSE Results. Students were crying and hugging each other after collecting their results as all their hard work paid off.
24% of all A level entries were graded at A* or A with 53% of all entries graded at A*-B.
Highlights for A Level include Meaghan Donaghy and Jack Hogan (pictured right) who both received 4 A*s which is an exceptional achievement. Meghan is going to Oxford to Study Mathematics and Jack is going to study Medicine at Imperial College. Other students going to Oxford include Laura Childs and Femi Fakounde, both achieving 2 A*s and 2 As and James Lingfield, with 2 A*s and an A. Sam Dutnall is going to Cambridge with A*s and 2 As. Other students who achieved straight As and A*s include Imani Looby, Felix French, Ryan Hogan and James McNicholas.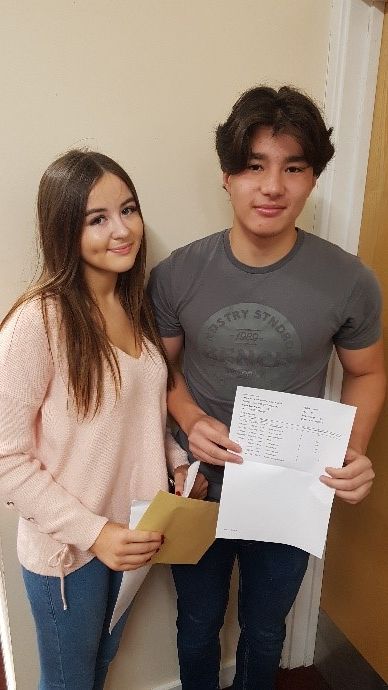 For GCSE Rachel Aquilina, Edgar Yamaguchi, Roy Zhao and Christopher Warwick all got grade 9s in 7 or more of the new GCSE's with Annie Marshall getting 9s in every subject. This is an outstanding achievement putting her at the very top of the country, less than 1000 students in the country
achieved such an academic feat. (Annie and Edgar pictured left)
Overall, the school achieved 82% grade 9 to 4 with 67% grade 9 to 5 in English and Maths combined which is significantly above the national average. 32% of all grades were A/A* or 7/9 which is a fantastic academic achievement by staff and students.